Celtic Woman Wiki is a community site that anyone can contribute to. Discover, share and add your knowledge!
Trending articles
Popular categories
View full main page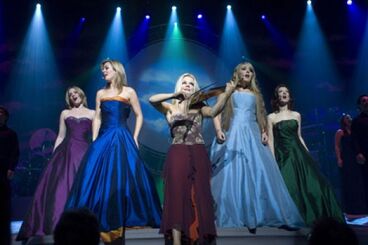 Celtic Woman
Celtic Woman is an all-female Irish musical ensemble originally assembled by David Downes (a former musical director of the Irish stage show Riverdance, one of whose featured dancers had been Michael Flatley) and Sharon Browne.
In 2004, Downes recruited five solo musicians for a one-night show. These musicians were singers Chloë Agnew, Órla Fallon, Lisa Kelly, who had been also been a singer with Riverdance, and Méav Ní Mhaolchatha, and fiddler Máiréad Nesbitt. Downes had filmed this as a PBS Concert Special, which he called Celtic Woman: The Show. The five--Agnew, Fallon, Kelly, Ní Mhaolchatha, and Nesbitt--could be described as "four lasses fair" and "a fifth who played the fiddle."
Though he had intended Celtic Woman: The Show to be a once-and-done project, the unexpected success of the show, which surprised Downes to no end, led to Celtic Woman beginning its tours as a group and releasing its debut album, Celtic Woman, on the Manhattan Records label. Since then, the ensemble has released several other albums, including Celtic Woman: A Christmas Celebration, Celtic Woman: A New Journey, Celtic Woman: The Greatest Journey, and Celtic Woman: Songs from the Heart. Celtic Woman has undertaken several world tours, and cumulatively, they have released over 6 million records worldwide. As the years passed, Deirdre Shannon, Hayley Westenra, Lynn Hilary, Alex Sharpe, Lisa Lambe, Eabha McMahon, and Susan McFadden had been taking places.
Describe your topic
Latest activity