fiddler for the group 2004- 2016..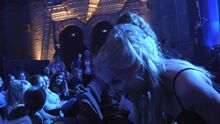 She began her career with riverdance then went to feet of flames then in 2004 was asked to joing CW . In 2016 she left touring with rocktopia then left to do solo shows and currently lives in NEW HAMPSHIRE and advertises a line of fiddles and custom jewelry.
Know as a fiddling demon she is married to JOHN MUSTAFA..