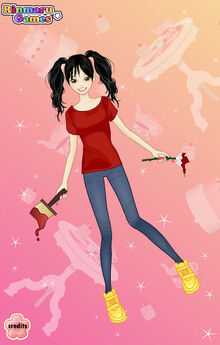 Hi. I'm Kimberly Jordan and I'm from Ft. Washington in the state of Maryland. I first saw Celtic Woman on PBS aired on TV. Later, I got the first CW concert DVD and when it was playing, I realized that my favorite group member Chloë Agnew came to the stage to sing a song called "Walking in the Air" as the first part of the program. And that's when I began to like her. So far, we have most of the same things as we discussed to each other like animals such as bunny rabbits and panda bears, our favorite worldwide celebrities and franchise companies such as Disney, Seuss and Nintendo which is when I made the story. If I can ask her about Animusic, I think she will be able to try it. Órla Fallon, on the other hand, is my Celtic Star. This is why she made her song called "Shooting Star". I first heard it in the Wolftrap with my former school teacher Ms. Deirdre and my daddy and the next year, I talked to Órla about her song and she touched my star necklace referring to the pendant as a shooting star even though it looks like just a star. Today, this song is enlisted as track #5 for her CD album called Distant Shore. She was performing a musical number with Barney the Dinosaur and his friends, Baby Bop, B.J. and Riff in one of my dreams I've had. I told the famous fiddler Máiréad Nesbitt to be careful when performing on the stage in my second time to meet her and I bet she is remembering it, but will she be all right? No one knows when, but some people just keep on hoping so.
Community content is available under
CC-BY-SA
unless otherwise noted.