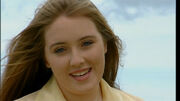 "Walking in the Air" is a song written by Howard Blake for the 1982 animated film of Raymond Briggs' children's book The Snowman In the film, the song was performed by St. Paul's Cathedral choirboy Peter Auty and this version was released as a single on CBS in 1982, and reissued in 1985 (on Stiff Records) and 1987. This song has been covered by youngest Celtic Woman member Chloë Agnew for her solo CD album named after the song itself.
Intro:
Walking in the air, floating the sky...
Floating in the air...
We're walking in the air
We're floating in the moonlit sky
The people far below are sleeping as we fly
We're holding very tight
I'm riding in the midnight blue
I'm finding I can fly so high above with you
All across the world
The villages go by like dreams
The rivers and the hills, the forest and the streams
Children gaze open mouthed
Taken by suprise
Nobody down below believes their eyes
We're surfing in the air
We're swimming in the frozen sky
We're drifting over icy mountains floating by
Suddenly swooping low on an ocean deep
Arousing of a mighty monster from its sleep
We're walking in the air
We're dancing in the midnight sky
And everyone who sees us greets us as we fly
Community content is available under
CC-BY-SA
unless otherwise noted.